In accordance with its business strategy, PGE Group's energy transition involves new investments, new technologies in electricity generation, but also a higher demand for new competences and professional qualifications of employees.
PGE Group's commitment to the transition is not focused solely on the organisation itself. PGE Group takes a broader approach because the transition also concerns the inhabitants of the coal regions. PGE actively participates in the preparation and implementation of transition plans for these regions, in particular Bełchatów and Turoszów, the functioning of which is strongly dependent on the activity of PGE Group's energy complexes located in these areas (more details in Chapter 3.1). Project teams appointed for this purpose are responsible for developing directions for the further development of these regions. A separate project team performs tasks related to the preparation of the spin-off of coal-fired generating assets to a new entity – the National Energy Safety Agency (NABE). One of the most important elements of each of these projects is the human capital management policy, based on the use of own human resources, which allows for the development of the potential of competences and knowledge of the specifics of our operations.
New vocational training courses
An important step in preparing employees associated with the Bełchatów complex for a just energy transition is the establishment of the Bełchatów Competence Development Centre. The centre was established as part of the "Transition Concept for the Bełchatów Region" and it operates in cooperation with the Marshal's Office of the Łódź Voivodeship.
providing opportunities for retraining for both workers and residents of the region,
preparing employees for work in the area of renewable energy (PV, offshore, onshore) and modern energy services,
secondary education in fields of study leading to qualifications in professions employable in the renewable energy sector,
vocational training for adults in fields useful for new energy production technologies
The Bełchatów Competence Development Centre began its training activities in September 2021. The following qualified vocational courses were offered to people who were interested: renewable energy equipment and systems technician, automation technician, IT technician, programming technician, welding technician. Almost 200 people have already taken advantage of the educational offering. New fields of study will be developed in accordance with the needs of the Bełchatów complex transition program and the inhabitants of the Łódź region.
Circular Economy Research and Development Centre
The formation of the Circular Economy segment in PGE Group's business model is also an important transition project. The Circular Economy Research and Development Centre in Bełchatów was established in November 2021 and will open in Q4 2022. The centre will develop and implement solutions to increase the use of post-industrial waste from the energy sector and the recovery of raw materials from decommissioned RES installations. The functioning of the centre is related to the need to provide appropriate employees and equip them with the necessary knowledge and skills.
Analysis carried out in 2021 identified the following key professional qualifications: laboratory technicians in the physical and mechanical laboratory, technology specialists, specialists in raw material recovery, recycling of materials from Circular Economy waste (PV installations, energy storage facilities, wind farms), designers of engineering solutions, REACH specialists, environmental specialists, specialists in economic use of other waste generated in connection with the operation of energy infrastructure, specialists in carrying out reclamation processes, liquidation of landfills and demolition of waste heaps. Depending on the situation on the labour market, decisions will be made to recruit employees from outside or to train employees already working in the Circular Economy segment and provide them with the necessary competences.
Recruitment in the RES area
In view of PGE Group's strategic turn towards renewable energy, activities aimed at securing staffing levels in this area are a priority. A number of recruitment processes were carried out at PGE Energia Odnawialna in 2021 with the aim of:
ensuring staffing levels that guarantee the availability and continuity of electricity generation, 

recruiting for positions related to building and developing competences in the Renewable Energy Investments Department, which is responsible for the development of new photovoltaic projects, and in the future, after the relaxation of the distance law, also wind projects,

expanding the scope of in-house maintenance of wind turbines (electrical and mechanical services, including replacement of large components – generators and gearboxes) and developing a wind turbine propeller repair team. With the hiring of wind turbine blade repair specialists, the company will gradually become less dependent on services provided by external companies and will be able to react more flexibly in case of bad weather conditions by transferring employees to other farms, where weather conditions make it possible to repair blades. 
The company plans further recruitments in the coming years. These will strengthen the team responsible for implementing RES projects and ensure the effective operation of new generation capacities and fill vacancies left by retiring employees. 
Offshore wind is a new branch of the Polish energy industry. PGE Baltica, in charge of implementing PGE Group's offshore program, will create jobs and professions of the future. This is a huge challenge for the HR department. The processes of recruitment, adaptation and development of employees are exceptionally important to the company. The company is involved in a range of programs addressed to young people who are entering the labour market, including students and graduates of technical faculties. They have the opportunity to take part in internships and apprenticeships in the company. They learn reporting, knowledge management, planning, finance, analysis, market research in the context of individual areas of an offshore wind farm. They support the implementation of tasks in the technical, business development and project areas. For them, this is an invaluable experience, and for the company – an opportunity to develop the potential of its future employees.
The company is also active in the field of offshore wind energy education in Poland. An example of this is the cooperation with Polish universities on a new renewable energy major. In order for the company to influence the curriculum and its quality, it willingly shares its expertise and guidance with the Gdańsk University of Technology and the Gdynia Maritime University. 
The retail sales company, PGE Obrót, is also involved in the energy transition process. As part of its strategic initiatives, projects related to the sale of pro-ecological green energy offerings are being implemented. In 2021, the "Pro Eko" project was launched, establishing an organisational unit dealing with the sale of products related to photovoltaics. Activities related to the support of prosumers are being implemented. The company also runs a number of communication and product campaigns related to the development of green energy.
Aware of the business challenges related to the implementation of a new business strategy, PGE continued its involvement in the development of the internship program being implemented under the auspices of the Ministry of Climate and Environment – Energy for the Future. In 2021, its 5th edition was completed and the next edition was launched. In the sixth edition, PGE Group funded internships for six interns selected in the recruitment process from among the program participants. The program is being carried out by the largest fuel and energy companies in Poland and enables people from the best Polish universities to take the first steps in their professional careers in the energy sector.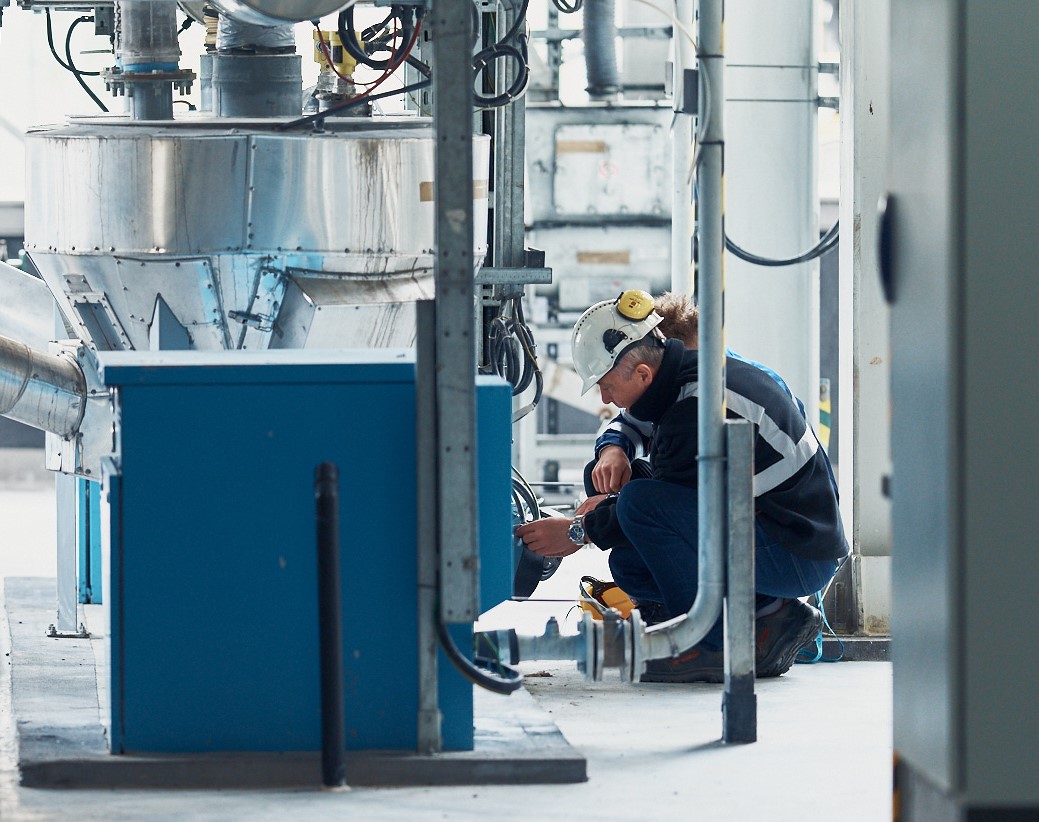 Business strategy implementation plans in the area of human capital management
In 2021, work began on developing a plan for the implementation of the business strategy in the Human Capital Management area for 2022 – 2025, enabling the Group's strategic goals and objectives to be met. Each company has identified the necessary directions of development in the HR area and has defined key initiatives. Joint activities have been identified within the entire PGE Group, which will be implemented by the Corporate Centre in cooperation with the companies.
Joint initiatives include the following programs and projects:
implementing a Competence Assessment to be based on the Competence Model and shared rules,  

equipping managers and project managers with the right change management tools,  

increasing the effectiveness of competence management of key personnel across PGE Group, which will consist of the identification of positions understood as ones of particular importance and value to PGE and in ensuring their systemic management and implementing a succession mechanism,
reviewing the rules of corporate human capital management and making necessary adjustments resulting from both structural changes which have taken place at PGE Group in recent years and adjusting the provisions to the current business needs,

implementing the role of HR Business Partner in companies where this function does not yet exist and creating a forum for the exchange of knowledge, good practices and experience for those involved in this area,

consolidating selected areas of support.
The internal corporate policies that govern the key elements of the human capital management (HCM) strategy remain in force. These include corporate rules for: systemic key personnel management, job architecture, HR controlling, mobility, training and development, cooperation of the HCM area, recruitment and employment, and remuneration. The corporate rules in the HCM area are communicated to all employees in the manner adopted at PGE Group, which is aligned with internal regulations.
It should be emphasised that the detailed terms and conditions of employment and remuneration are determined in accordance with the regulations in force at the individual companies of PGE Group and the generally applicable labour law and legal system (including the freedom of choice and exercise of profession and place of work provided for in the Constitution or regulations on the employment of young people).
These rules refer to the highest standards of human capital management in the entire Group. They concern, inter alia, the issue of unification of remuneration principles in relation to the business needs of individual business segments and areas, as well as monitoring the competitiveness of total remuneration in relation to the external market and internal benchmarks, with concern for its link to individual, team and PGE Group performance. Remuneration tables are created assuming a reference value and a range of minimum and maximum salaries, with observance of the law, including in particular the minimum wage.
One of the objectives set out by PGE Group in its new strategy until 2030 with an outlook to 2050 is to increase the organisation's effectiveness and efficiency. This is a task that cannot be achieved without the acceptance and involvement of employees. Internal communication at PGE Group is aimed at raising employees' business awareness and building an understanding for activities related to the energy transition, of which PGE is the leader. These assumptions are realised via numerous publications in internal media featuring expert commentary from PGE Group employees.
In 2021, a total of 1 070 materials were published on PGE Group's Intranet. 50 editions of the newsletter were delivered to employee inboxes. 10 online editions of the employee magazine "Pod Parasolem" were also published. Transparent and two-way communication is a vital element of the company's organisational culture. Employees are encouraged to share their views through opinion surveys. They can also share ideas and exchange observations on internal blogs focused on ecology, green energy and conscious consumer choices. They also have dedicated email addresses at their disposal, to which they can send questions related to HR matters or the company's strategy and on-going projects.
Dialogue with employees - employee opinion survey and leadership profile survey
At PGE Group, dialogue with employees is an important element of building employee engagement. This is evidenced by the fact that solutions building the Company's organisational culture and improving the well-being of employees are implemented on the basis of their opinions and diagnosed needs. The tools of such dialogue include the "Employee Opinion Survey" and the survey of leadership competences of managers: "Leader Profile." Thanks to cyclical activities, PGE collects opinions from a large number of employees, which would not be possible using other tools.
Standardised questionnaires measure the most important indicators for employee engagement in the workplace and effective cooperation with managers. The Employee Opinion Survey includes 16 indicators, such as engagement, cooperation, communication, among others. In 2021, the survey was conducted at the following the companies: PGE SA, PGE Baltica, PGE Ekoserwis, PGE Systemy and PGE Energia Ciepła. The results are discussed with the management boards of the companies, social partners, managers and all employees. Improvement plans are developed on this basis. Examples of such actions include, among others, improvements in the area of communication between employees, such as organisation of cyclical meetings or definition of rules for cascading information within teams, as well as well-being initiatives, the "Let's get to know each other" campaign in which teams talk about themselves and their work, implementation of mechanisms and tools supporting the work of specific teams, and implementation of rules for remote work in the Work Regulations.
The "Leader Profile" survey was conducted for the first time in 2021. Areas assessed by managers include: communication, building relationships, motivating and building engagement, developing employees and achieving results. The survey was conducted in the form of a questionnaire with 23 closed questions and 2 open questions. The turnout in the first edition of the survey was 74%. The "Leader Index," i.e. the average percentage of positive answers given to all 23 questions, was: 89%.  
The "Leader Profile" survey was conducted at PGE SA and PGE Systemy, which in 2021 completed the process of changing its organisational structure and optimising its personnel resources. The company faced a challenge of how to strengthen and retain its current employees and how to recruit new ones. In PGE Systemy's case, the "Leader Profile" survey was extended to include an examination of the level of cooperation among senior managers ("Cooperation Survey"). The information obtained was used to further develop team management skills among the company's management staff. Managers received individual reports with feedback on their level of managerial competence. 
Employee safety during the COVID-19 pandemic
Another year of the pandemic confirmed that internal communication is essential in the process of providing employees with necessary information, also when it comes to safety. PGE Group employees were informed about the current epidemic situation, new guidelines and legal regulations and recommendations related to the sanitary regime via the intranet, newsletter or the company magazine "Pod Parasolem." Regular announcements were sent out, at both the Group and company level, which kept employees up-to-date on particularly important issues related to safety during the pandemic. Encouraging employees to get vaccinated against COVID-19 was also an important part of communication activities related to the pandemic. The most important information on the National Vaccination Program was presented in a special tab on the intranet. 
Since the beginning of the pandemic, crisis teams have been operating in individual companies and monitoring the situation in workplaces on an on-going basis. At PGE SA, an interdisciplinary crisis team coordinates actions related to the pandemic in the entire PGE Group.
The actions undertaken are based on the following assumptions:
at PGE Group, solutions to minimise the pandemic risk are implemented on an on-going basis. Employees are provided with appropriate personal protective equipment, with instruction in the form of videos and posters on how to use it. Depending on the specific situation of individual companies, appropriate recommendations were introduced with regard to conduct in the office – i.e. how to organise meetings, cover the mouth and nose, move around the office and use shared spaces. In selected companies, a vaccination campaign was organised for interested employees, who could receive the first and second dose of the vaccine and a booster dose. The companies also promote vaccination through exemption from work duties for the time the vaccine is received or an extra day off for those vaccinated. Some of the companies also allow employees to test for both Covid-19 and antibodies. The companies are also continuing to train managers in managing distributed teams (with a particular focus on remote working). 
PGE Group continuously improves ICT tools which support online communication between employees in times of pandemonium, as well as the organisation of remote work, e.g. with regard to electronic document circulation and correspondence records. In addition to information provided on an on-going basis to all employees, information exchange at all levels is important. At PGE SA, meetings of the employer's representatives with employee representatives (trade union organisations and the Employee Council) are held every two weeks to discuss health and safety at work and the pandemic. To support the building of relations among employees, online integration activities with the participation of management boards are conducted in many companies.
employees in quarantine or isolation can count on their employer's contact and support, including for on-going needs. In 2021, PGE Group employees continued to support the GIS hotline, from January 22 to May 31, 2021. In total, during the pandemic, PGE employees received 6 850 calls and spent 14 322 minutes talking to people who were looking for the necessary information. In January 2021, PGE SA employees were involved in volunteering for senior citizens, where they delivered lunches to them every day.
Concern for employees' health
Pandemic-related restrictions are a difficult experience for many employees. PGE Group attaches great importance to developing initiatives related to improving the well-being and health of its employees. PGE Group employees are provided with private medical care, which also includes occupational medicine. Within the framework of agreements in place, they can undergo preliminary, check-ups and periodic examinations. PGE respects its employees' right to privacy; therefore information on health conditions is not used when making HR and employment decisions. 
Many companies organise additional pro-health activities for their employees. PGE Baltica has a program in place: "Tool-Box – Occupational Health and Safety." These are weekly meetings held in the form of short QHSE (Quality, Health, Safety, Environment) training sessions. Topics related to the current and future activities of the company as well as topics related to the personal safety of employees (hazardous incidents, corrective measures) are discussed at the meetings. 
"Operation Regeneration" is a project initiated at PGE SA and involving prevention in physical and mental health, as part of which employees can take advantage of free examinations, webinars with psychologists, dieticians or doctors. As part of the campaign, free flu vaccinations were organised, from which – in 2021 – about 20% of employees benefited, as well as free preventive examinations. In October 2021 alone, around 40% of employees took part in the tests. "Operation Regeneration" is complemented by educational materials published in internal media on health issues and work-life balance. The principles of healthy nutrition are also promoted. 
Here was also a webinar promoting COVID-19 vaccinations, a series of webinars on COVID-19 challenges, stress reduction and relaxation techniques, as well as a week for fitness (two webinars on taking care of the spine while working remotely and pain complaints) and a week for better health (home office menus and immunity – how to strengthen it). In 2022, a free antibody test was carried out for those who were interested. As part of the Development Academy, employees were offered emotion management training by qualified trainers.
An educational campaign devoted to oncological prophylaxis was carried out at PGE GiEK. Employees were provided with access to non-standard medical services, including oncologists specialising in the diagnosis and treatment of skin, lymph node, breast or gastrointestinal cancers. In the case of a suspected oncological disease, doctors performed procedures and referred patients for further treatment in clinics. A "Health Town" was also organised to promote a healthy lifestyle and cancer prevention. Employees had the opportunity to participate in consultations with specialist doctors, meetings with a dietician, dermatoscopic examinations and examinations in a mammobus. There was also an educational campaign devoted to healthy lifestyles, oncology prevention and the "Prevention 40+" program.
An element of caring for employees is taking care of their psychological wellbeing and counteracting harassment and discrimination. At PGE Group, we continuously monitor the implementation and effectiveness of processes and procedures aimed at counteracting these issues, and we constantly raise awareness in this area among all employees, including managers. We sensitise them, including through training, to issues related to counteracting harassment and discrimination and responding appropriately in the event of suspicion of their occurrence. We also monitor psychosocial risks related to daily work, covering not only harassment but inappropriate behaviour more broadly.
Health and safety at work
The safety and health of people working for PGE Group are a priority for the entire organisation. In 2020, PGE SA's Management Board adopted the Occupational Health and Safety Policy, which defines the organisation's framework for action and goal-setting regarding occupational health and safety management and recognises this area as a key value for the organisation's development. The Policy also defines long-term strategic undertakings concerning OHS and the basic principles of their implementation. The document was developed in cooperation with representatives of all business segments and consulted with the entire PGE Group. Notes and comments from representatives of individual subsidiaries and the social side positively influenced its final shape. The policy's scope includes PGE Group companies. On this basis, the declarations of the management boards will be updated to take account of the specific nature of work in individual companies. PGE Group's Occupational Health and Safety Policy reflects the requirements specified in the latest standard for Occupational Health and Safety management systems: ISO 45001 and the guidelines included in the Labour Code. Proactive and reactive OHS objectives have been implemented for the top management of PGE Group subsidiaries.
The OHS situation is regularly discussed at PGE SA's Management Board meetings. As part of the update of the megaprocess map in 2021, a process was developed: "Occupational health and safety management." It will be implemented from 2022. OHS management and detailed solutions at PGE Group are currently embedded on a local level within the activities of individual companies. Occupational health and safety issues are a regular item in top management meetings (e.g. management board meetings, branch management meetings). Topics include discussion of occupational health and safety incidents, working conditions and other issues in the safety and health of employees and contractors working at the site / company.
PGE Group intends to standardise the best solutions in the coming years. In order to ensure the exchange of experiences and mutual learning from incident analysis, an IT tool was implemented to collect information on health and safety incidents in the entire PGE Group, including accidents at work or near-miss incidents. The knowledge acquired in this way translates into additional actions in the area of occupational health and safety, which are taken throughout the Group by means of the Framework Plan for the Improvement of Occupational Health and Safety or in the form of alerts to organisations aimed at taking preventive measures in other locations.
In 2021, the companies' Framework Plan for the Improvement of Occupational Health included tasks in the following areas:
Improving occupational health and safety in handling operations,

Improving occupational health and safety when working at heights,

Supervising the use of personal protective equipment when carrying out live work,

Reducing the risk of objects falling from a height
PGE Group companies comply with legal requirements. Compliance is verified by organisational units dealing with audits, OHS, Compliance, etc. A majority of PGE Group companies have a certified OHS management system based on the PN-ISO 45001 standard.
PGE Group's ambition is to attain the goal of zero accidents. I know from experience that this is not easy, but achievable. Occupational health and safety is all about systematicity and detail, but you also have to consider the processes as a whole.
Occupational risk assessment for workplaces is the foundation of health and safety management at PGE Group. The process is adapted to hazards and the specific nature of work and is described in internal normative acts of individual companies. A documented occupational risk assessment is provided for all workplaces. Depending on the needs, various methods of occupational risk assessment are used, such as Risk Score, PN 18002, Chemical risk assessment, OWAS, KIM1, KIM2, Lehman method. To ensure the most accurate results, the process of hazard identification and risk assessment involves the occupational health and safety personnel, supervisors of the employees working on the assessed position and often also the employees themselves, social labour inspectors, other experts relevant to the risk or the members of the occupational health and safety committee. 
The power equipment used in the companies and branches has operating instructions that contain, inter alia, information on identifying hazards to human health and life associated with the operation of the power equipment or group of equipment, and rules of conduct to eliminate the identified hazards. Where required, job-specific manuals and other instructions describing the safe performance of work specify the activities to be performed prior to commencement of work, the rules and methods of safe performance of work, activities to be performed after completion of the work, and the rules to be followed in emergency situations which pose a risk to the life or health of employees.
In the CHP plants and the power plant in Rybnik, risk assessments are additionally carried out for tasks within the order-to-work system. In 2021, more than 32 000 such assessments were carried out in this area.
At PGE Group companies, employees have at their disposal various channels of information on occupational health and safety issues, e.g. through superiors, occupational health and safety personnel, social labour inspectors, publicly available physical boxes for paper notifications, emails, occupational health and safety committees or the IT application. Representatives of top management at PGE Group companies are expected to carry out regular visits to workplaces of employees assigned in the structure. A manual for conducting such managerial field visits was developed in 2021. In addition, within the Group, employees can report health and safety issues within the Compliance function.
In accordance with the Labour Code, all employees have the right to refrain from performing work that endangers their life or health. This is connected with the occurrence of an external threat, when the work conditions do not comply with the regulations of occupational safety and health and constitute a direct threat to the health or life of an employee or when the work performed endangers other people. Employees are entitled to remuneration for the period when they refrain from work due to the hazard. In companies where there is work requiring special psychophysical fitness, records are kept of such work. Employees performing such work have the right, after prior notification to their supervisor, to refrain from such work if their mental and physical condition does not ensure the safe performance of work and poses a threat to others. They are then directed to perform other types of work. 
Every occupational accident is investigated by a team consisting of an occupational health and safety officer and a social labour inspector or employee representative. If necessary, the team consults other specialists to the extent necessary to assess the type and consequences of the accident. Other OHS incidents or accidents are also investigated at PGE Group companies. Conclusions are drawn from these investigations to improve the OHS management system, and the teams share their experiences at Group level. Causes of incidents are analysed using various methods, including: cause tree analysis, TOL or the 5x why method. 
Consultations with employees on health and safety issues are carried out at individual companies mainly through the established Health and Safety Committees. Efforts are made to have an equal number of employee and employer representatives and an occupational doctor. Committee meetings are held at least quarterly during working hours. Over 120 meetings were held in PGE Group companies in 2021. The task of the Occupational Health and Safety Committee is to consult on occupational health and safety issues, in particular: reviewing working conditions, periodic assessment of the state of occupational health and safety, issuing opinions on measures taken by the company to prevent accidents at work and occupational diseases, formulating conclusions on the improvement of working conditions and cooperating with the company in performing its obligations in the area of occupational health and safety. In connection with the performance of these tasks, the Committee may use the expertise or opinions of specialists from outside the workplace in cases agreed with the company and at the company's expense.
OHS communication is carried out on many levels. The publication "Pod parasolem" addressed to all PGE Group employees covers issues such as the organisation of safe work with power equipment, the culture of health and safety or the role of visible leadership. 
Various communication tools are used in individual Group companies, such as: incident information brochures, health and safety reports, animated films, instructional videos, webinars and discussion of health and safety issues in meetings with employees.
Occupational health and safety training
Prior to starting work, all employees receive initial health and safety training consisting of general and job-specific instruction. Where justified, an introductory OSH training for contractors is also carried out. Depending on their position, employees undergo periodic OSH training. The period ranges from 1 year for positions which are exposed to particular risks to 6 years for administrative and office positions. Detailed training programs are adapted to groups of positions. Employees performing work on power equipment undergo mandatory examinations which end in obtaining a certificate confirming their competence to perform specific work.
Maintenance, repair, assembly, inspection and measurement work on power equipment is carried out in accordance with operating manuals for power equipment or groups of power equipment, which describe, inter alia, the characteristics of the equipment, activities associated with its commissioning, operation and shutdown and the timing of inspections, tests and measurements. Additionally, work on power equipment is carried out in accordance with a manual for the organisation of safe work. This document describes how the work is to be organised, requirements for persons in charge, conditions for supervising the work and rules for the circulation of written orders. Individual PGE Group companies are responsible for the provision of these documents.
Operational work that creates the possibility of particular danger to human health or life is performed on the basis of a written order. The written order is also often used in situations where this formula is advisable for safety reasons, in particular when directing contractors' employees to work.
The pandemic situation indicated the need to continue developing employees via hybrid solutions, as well as the need to develop competencies related to digital transformation – both specialised, concerning the operation of systems, and social and managerial competencies that enable effective relationship building and the achievement of business objectives. Employees also participated in open training in 2021, in line with business needs, and in training directly related to their areas of professional activity. Employees of the Human Resources Department, through workshops and training, prepared for the changes related to the introduction of the "Polish Deal," changes in labour legislation and in the HR and payroll system.
Periodically, Lunch&Learn meetings were organised for employees of all companies. These were one-hour online sessions during which PGE Group employees, who were experts and enthusiasts in a given field, shared their knowledge in the areas of security, compliance, business psychology, communication and social research related to the energy transition program, and new technologies.
Computer training was particularly popular among PGE SA employees. The Academy of Development was also active – a series of training courses developing interpersonal skills and building interdisciplinary knowledge in the field of assertiveness training, exerting influence, solving problems, designing new solutions, change management and energy management. 
At PGE Obrót, online training sessions were conducted for all employees, focusing mainly on supporting the psychological condition of employees and coping with work in the times of change and crisis.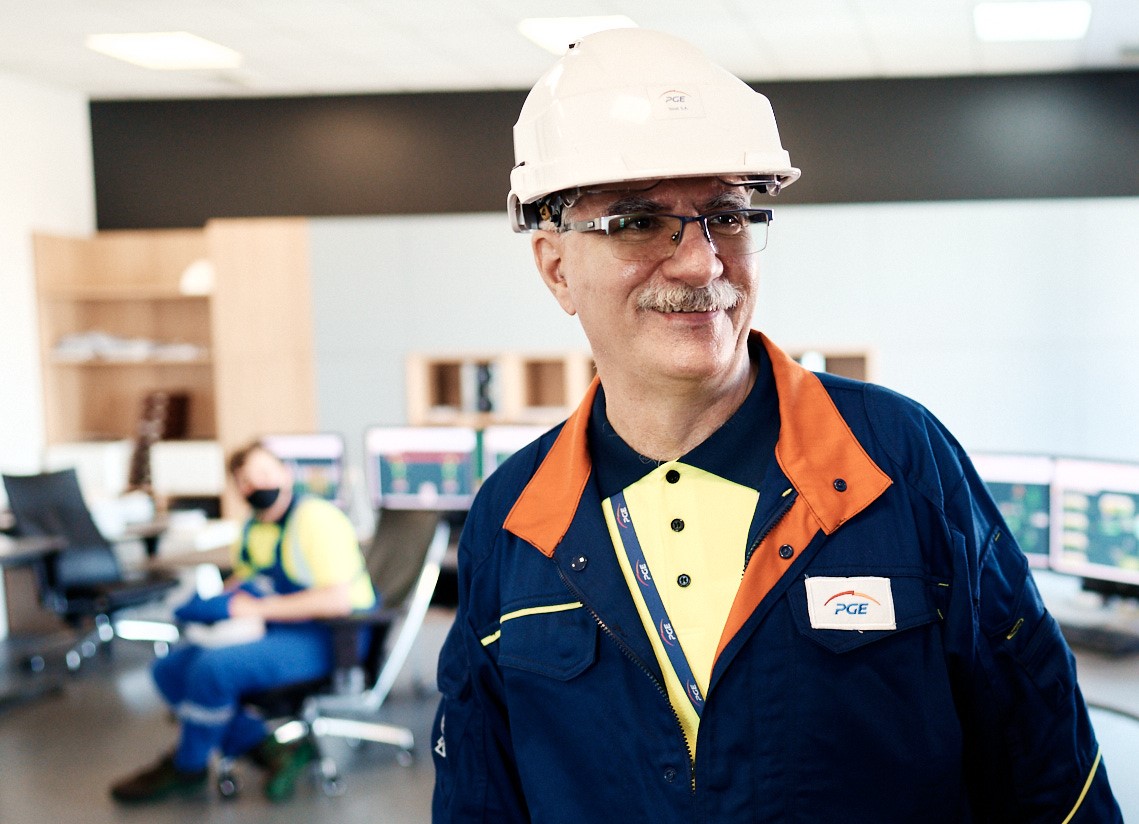 The "Academy of Efficiency" program was also launched to support the development of sales and service skills for employees who are in daily contact with customers. Approx. 35% of the company's employees took part in it. Training to develop managerial skills was also introduced as part of a program for young managers.
The employees of PGE Baltica mainly developed soft and managerial competencies diagnosed in a training needs survey. The employees of PGE Ekoserwis took part in training organised by the Competence Development Centre in Bełchatów, including training for social labour inspectors.
In PGE Dystrybucja, employees mainly participated in mandatory training on the Anti-Corruption Policy, as well as in refresher training on Compliance and the Code of Ethics. 
PGE Systemy employees, who are implementing strategic projects related to energy transition based on modern technologies, improved key specialist competences in order to respond to the business needs of internal customers and increase efficiency as a shared IT services centre. The company's employees participate in a dedicated program for the exchange of knowledge and experience in the IT area – Triebes.
PGE Synergy has focused mainly on the development of managerial competencies, therefore it has implemented the Leadership Academy, which aims to develop the competencies of managers and to build a management culture corresponding to the current and future challenges of the market. The following competences are developed at the Academy: building relations, motivating and building engagement, employee development and achieving results.
PGE GiEK employees mainly take advantage of various forms of educational co-financing. With this, they expand their specialist knowledge and already possessed skills during classes organised as part of higher education and post-graduate studies. Managers benefit from skills development as part of MBA studies.
At PGE Energia Odnawialna, wind farm employees participated in soft training aimed at improving cooperation and communication within the team. The company intends to continue this project in 2022. 
PGE Energia Ciepła also implemented projects in the field of managerial skills development. The most important development activities included: development of soft skills of mid-level supervisory staff with short seniority and managerial experience (conflict resolution, managing a diverse team, delegating and enforcing tasks). For newly appointed managers: effective team management, delegation of tasks, coaching sessions, conscious authority building and team building. And for all team leaders – managing a distributed team in the new reality of remote working and the resulting challenges.
Other training included:
Facilitator Academy – providing training on how to increase team effectiveness and create a friendly environment for group collaboration,

Developing critical thinking – training aimed at learning the methods and tools of critical thinking, rational discussion, practising the principles of logical reasoning and the art of argumentation,

Managing generational differences – training on developing skills in managing younger generation employees.  
PGE Energia Ciepła organised training for managers on energy transition in the climate context and analysis of changes facing the energy sector. During training, the objectives and scale of transition processes in Europe and worldwide as well as the development of green CHPs in European countries were presented.
Recognition of HR efforts
For its activities in 2021, PGE was honoured for the second time in a row with the Friendly Workplace 2022 Special Award from markapracodawcy.pl – the organiser of the Friendly Workplace competition and one of the leading services dedicated to human resources management in Poland. The organisers appreciated the company's commitment to creating a pro-development and, at the same time, health-friendly work environment and the projects it has implemented, such as the Competence Development Centre or the "Leader Profile" survey. 
PGE also received the Reliable Employer 2022 Award, which is given to businesses that demonstrate care for safety and working conditions as well as employee development. The Reliable Employer of the Year is an award for employers who promote the most interesting HR solutions in their operations and are characterised by an exemplary personnel policy.
The Competence Development Centre was established for the employees of the Bełchatów complex and the region's residents, constituting a response to the need for retraining employees connected with the conventional power industry and intended to be a place where all those interested will be able to acquire new skills and knowledge by participating in professional courses, training and workshops. The centre's offering will be updated and adapted to the needs and expectations of employers and employees.
Management of employee innovations
The innovations area plays an important role at PGE, especially when innovations are submitted by employees. At PGE Górnictwo i Energetyka Konwencjonalna, managing employee-submitted improvements has a long tradition. They report a number of solutions to improve daily work, which also makes it possible to increase work safety, optimise complex processes and, as a result, obtain tangible economic benefits.
Examples include a system implemented at the Turów mine that enables the automatic elimination of the source of a fire or its early detection on belt conveyors, or the use of a drone in the Bełchatów power plant to carry out inspections of energy boilers in which ground coal is burned. Proposals of solutions to improve the company's day-to-day operations emerge every year in all branches of PGE Górnictwo i Energetyka Konwencjonalna. They are reviewed from a substantive point of view and then considered and evaluated on the basis of expert opinions, a research report and expected economic effects.
Innovations submitted in 2021 include a profitable optimisation of the boiler start-up process at the Dolna Odra plant, of importance to the operations area and for profitability, modernisation of the technical property protection alarm service station at the Alarm Monitoring Centre or visualisation of operating states in operator cabins used in the development of the SRs 2000 excavator control system.
Cooperation with trade unions
As of December 31, 2021 there are altogether 127 different trade union organisations at PGE Group, including one trade union at PGE SA – Organizacja Międzyzakładowa nr 2987 NSZZ "Solidarność." Since January 1, 2016, cooperation with trade unions has been regulated by the Corporate Rules of Social Relations at PGE Group. In accordance with the Trade Union Act, the basic level of cooperation between social partners is a branch or company. Another level of cooperation is the forum of individual PGE Group companies, where topics common to all employers in a given area are discussed. Social dialogue at this level takes place between management boards of companies and trade union platforms, which bring together trade unions operating in workplaces and having convergent sectoral interests. The rules of cooperation at the level of key companies are usually regulated in a dedicated agreement or memorandum, to which employers and companies are also parties.
In matters of strategic importance for the entire PGE Group, social dialogue is conducted at the level of the Corporate Centre between the Management Board of PGE SA and representatives of the social side at PGE Group. In relations with trade unions, the principle of company dialogue prevails and talks are transferred to a higher level in the event that talks at the level of the employer or companies do not yield results.
PGE SA and certain other employers from PGE Group are participants in sectoral social dialogue, which is conducted, inter alia, on the forum of tripartite teams (Tripartite Team for the Lignite Industry and Tripartite Team for the Energy Industry).
End of collective disputes
On December 29, 2021, an agreement was signed at the level of the Corporate Centre, ending collective disputes at PGE Group employers initiated at the turn of September and October 2020. The document was signed by representatives of the following companies and branches: PGE Dystrybucja, PGE Energia Ciepła, PGE Górnictwo i Energetyka Konwencjonalna and PGE Obrót, as well as representatives of the Protest and Strike Committee of PGE Group (which represented 64 trade unions), with the participation of the Management Board of PGE Polska Grupa Energetyczna SA as guarantor.
This guarantees, inter alia, the implementation of all the obligations arising from agreements signed to date and agreements ending collective disputes at the branch level, and expresses the will to continuously monitor, control and cooperate on the collective documents signed.
Moreover, in the agreements ending collective disputes that were executed at the company or branch level, the parties agreed on, among other things, issues relating to wage increases and full-time employment.
Social dialogue during the pandemic
Sanitary restrictions related to the state of epidemic declared on the territory of Poland had a significant impact on the shape of relations of the social partners.
In 2021, PGE SA continued a series of meetings initiated in 2020 with the Trade Union Organisation and Workers' Council on the epidemic and measures to prevent the spread of coronavirus at the company. More than 20 of these meetings were held. In the current dialogue, emphasis was placed on enabling remote participation in meetings, and during direct talks, adequate distance and necessary protective measures were provided (including publicly available disinfectant fluids and disposable masks).
At PGE Group employers, the counteracting of the pandemic has become a regular topic of discussion with the social side. Concerned for the safety of participants, the hybrid formula of meetings has become a regularly used option.
Energy transition - green change
Changes in PGE Group's business sector dictated by the climate and energy policy, which also influenced PGE Group's new strategy, were a topic widely discussed with trade unions in 2021.
In July 2021, the Ministry of State Assets initiated talks with the social side (represented in the Tripartite Team for the Lignite Sector and the Tripartite Team for the Energy Sector) on the energy-sector transition, including the spin-off of coal assets. This led to the establishment of three working groups, including a team for labour law and collective labour law, the activities of which were coordinated by PGE SA. The fundamental objective guiding the parties is to safeguard employee interests during the restructuring period.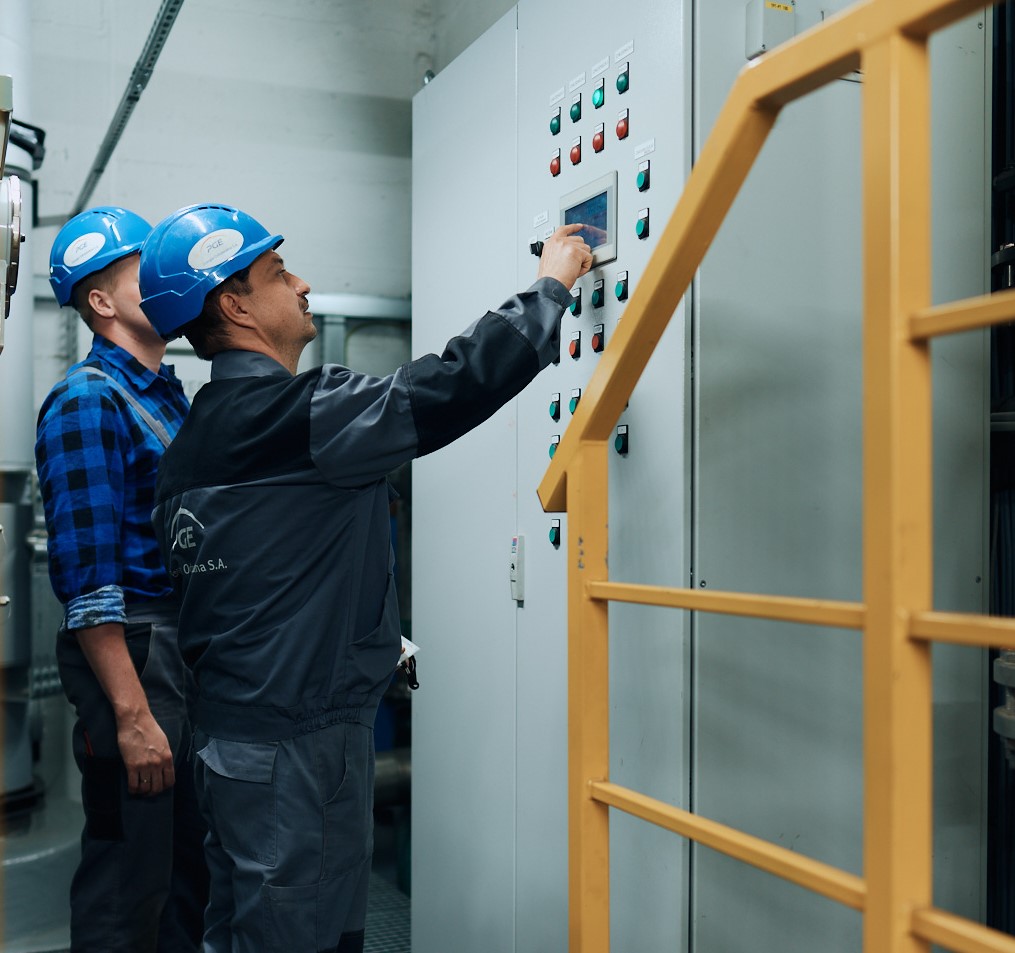 Description of the organisation's policies on trade unions
The organisation has a procedure concerning trade unions – Corporate Rules of Social Relations at PGE Group. This document defines the model and rules for social relations between the Corporate Centre, companies and employers. The main aim of the procedure is to support the implementation of PGE Group's strategy, the achievement of which depends on employees' involvement and acceptance of the social side, by conducting the process of social relations in PGE Group. The Corporate Centre, companies and employers are required not only to conduct social relations in accordance with the generally applicable legal regulations and the applicable acts of internal collective labour law but also with the procedure, which defines the tasks of organisational units for social dialogue at specific levels. In effect, PGE SA receives information on the number of trade unions, trade union costs as well as weekly reports on the activity of trade union organisations in PGE Group.
In 2021, work was in progress on developing the rules for a diversity policy. 
The policy is expected to be adopted in the first half of 2022. This is a document that will cover all PGE Group companies and will reflect the activities carried out in favour of diversity and respect for individual differences among employees as well as the fostering of a friendly working environment.
We note that diversity may manifest itself in different areas and arise from different sources, both biological and social. Dimensions of diversity can especially include:
– race, nationality, ethnicity, gender, age, health status (including disability),
– religion or spirituality, culture, political beliefs, education, place of residence, place of origin, family status, socio-economic status, abilities, views, personality, knowledge, gender identity,
– seniority, job position, organisational assignment, membership of social, professional or trade union organisations, form of employment, experience.
Our objective is to foster a work environment that is open to different viewpoints, multiculturalism and diversity of thinking, based on cooperation, mutual support, showing respect and ensuring fair and equal treatment of employees and others, including our business partners.
At PGE Group companies, we employ a diverse range of people and work for a wide range of customers. We are committed to building an inclusive culture that respects and maximises the contribution of all employees.
We believe that through diversity we can fully realise our values, follow our ethical principles and deliver business results in a fair and collaborative manner.
At PGE Group, we believe that every person is unique, so we respect and value the diversity and individuality of employees and others, including our business partners.
We believe that diversity enables us to share knowledge, views and perspectives, develop talents and complement each other's development areas, which leads us to effective synergies, including developing solutions that are born out of diversity.
Building market advantage and being a leader in sustainable transition are based on an efficient and effective organisation, built with diversity in mind, allowing us to achieve the results we are talking about above.
We are pursuing the objectives mentioned above particularly in the following areas:
– recruitment, selection and employment,
– access to professional development,
– the creation of a workplace free of bullying, discrimination and other inappropriate behaviour that is contrary to the Code of Ethics but does not amount to bullying or discrimination,
– internships and apprenticeships,
– remuneration and job assessment,
– vertical and horizontal promotions,
– employee appraisal,
– problem and conflict resolution